Home » Medical Records, Technology
Patients Must Be Involved
Submitted by admin_4281 on October 27, 2014 – 2:02 am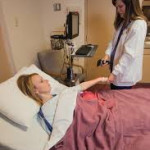 The engagement of patients and their families in patients' health care is a prominent goal of the EHR (electronic health record) Incentive Program. This policy priority aims to improve patients' understanding of their health and related conditions so that they take a more active role in their health care. It also encourages the involvement of patients' families, as many patients depend on their support.
There are some quick, easy steps that each individual can take to keep EHRs current. Writing down your personal issues, past surgeries, current medications, and other information relevant to your emotional and physical health helps you establish a stronger relationship with your physician. The more patients commit to documenting their story and sharing information, the more they help doctors do their job. A strong doctor-patient relationship can also affect a patient's care and recovery. Patients should be proactive in understanding and managing their health issues.
Melody K. Smith
Sponsored by Access Integrity, delivering advanced technology solutions for full and complete compliant processing of medical transactions to the healthcare industry.
U.S. Department of Agriculture photo by Bob Nichols, https://www.flickr.com/photos/usdagov/8576196682/ / CC BY 2.0
Tags: EHR (Electronic Health Records), Patient Care, Quality Controls