Home » Medical Records, Technology
Telehealth and HIT
Submitted by admin_4281 on April 6, 2022 – 2:04 am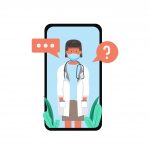 Recent federal legislation and policy proposals are working to ensure telemedicine is accessible long after the pandemic ends. This interesting information came to us from Seeking Alpha in their article, "Telemedicine: Rewriting Healthcare Standards As New Policies Emerge."
The digital health industry is building a foundation for increasingly connected services, including pharmacy fulfillment and diagnostic capabilities, that is expected to increase the industry's value proposition. Telemedicine and digital health industry are key to the long-term growth potential of health information technology (HIT).
The COVID-19 pandemic has spotlighted systemic inefficiencies in the healthcare world and proven that the value of remote medicine goes far beyond a short-term solution during a global pandemic. At its core lies an emerging policy framework that extends current Medicare telehealth reimbursement and prescribing waivers beyond COVID-19.
Technology continues to play a role in health care. This is all part of the drive to bring collaboration and efficiency to healthcare records. ICD Tagger is a medical indexing program that ensures the accuracy of medical records by tagging relevant information and cross-checking files for abnormalities or mistakes in the records and flagging them for further review. The indexing program also structures the data, making it an asset to analysis companies and easier to search.
Melody K. Smith
Sponsored by Access Integrity, delivering advanced technology solutions for full and complete compliant processing of medical transactions to the healthcare industry.
Photo, https://pixabay.com/illustrations/thank-you-doctor-nurse-covid-5137976/