Home » Data, Medical Records, Technology
Navigating Digital Health
Submitted by admin_4281 on September 24, 2021 – 2:06 am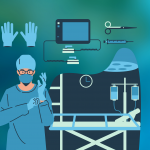 The COVID-19 pandemic has caused unprecedented global impact, not just on an economic scale but also straining health systems around the world to their limits. This interesting topic came to us from Your Story in their article, "Why pandemic-led digital disruption has led to a surge in demand for tech jobs in healthcare across India."
COVID-19 has led to a paradigm shift in the healthcare industry across the world. As the pandemic spread, healthcare professionals risked their own lives to treat and save patients, often struggling with infrastructure issues.
As healthcare organizations grapple with responding to the ongoing COVID-19 pandemic and adapting their operations to continue to fulfill other aspects of their care mission, they must also begin to define and prepare for the future of care amid economic, regulatory and social uncertainties. 
Digital health solutions and technology will play a crucial role in the difficult work of optimizing processes and systems for greater efficiency, financial viability and enhanced outcomes. 
Access Integrity is one of a very small number of companies able to help its clients navigate healthcare technology. Their cutting edge application uses the patented, proven, and award-winning Data Harmony® software that will provide more confidence that compliance has been met.
Melody K. Smith
Sponsored by Access Integrity, delivering advanced technology solutions for full and complete compliant processing of medical transactions to the healthcare industry.
Photo, https://pixabay.com/illustrations/surgeon-doctor-operating-room-6207766/
Tags: COVID-19, digital transformation, health information technology