Home » Data, Medical Records
Getting the Most Out of EHRs
Submitted by admin_4281 on September 21, 2021 – 2:06 am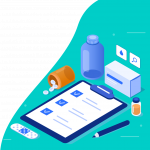 President Biden's proposed transformative biomedical agency, the Advanced Research Projects Agency for Health (ARPA-H), has caused some stirrings of opinion and posturing. Given the data-driven nature of healthcare information technology (HIT), many think revamping the now-ubiquitous electronic health record (EHR) should be the first project to tackle. This interesting topic came to us from STAT in their article "The first challenge for ARPA-H should be electronic health record migration."
EHRs are common in the U.S. healthcare system. Every healthcare worker and patient interacts with these systems in some way, shape or form. Almost every action that takes place in a hospital, doctor's office or other care-delivery setting is documented in them. Even given all that, they leave much to be desired.
To get the most out of an EHR system, we recommend an automated indexing system such as that provided by Access Integrity. The ANSI and HIPAA compliant technology reduces errors while analyzing and verifying EHRs. The software enables consistent reporting while it flags errors and analyzes trends. The system helps mitigate financial risk and ensure cost efficiency across all operations during the transition from paper to digital.
Melody K. Smith
Sponsored by Access Integrity, delivering advanced technology solutions for full and complete compliant processing of medical transactions to the healthcare industry.
Photo, https://pixabay.com/vectors/medical-health-medicine-hospital-5459633/