Home » Medical Records, Technology
EHRs, Technology and the Pandemic
Submitted by admin_4281 on October 30, 2020 – 2:06 am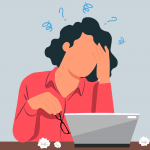 2020 and COVID-19 has brought the importance and usefulness of technology into the spotlight. This is true across all industries, but in healthcare physicians often saw the electronic health record (EHR) as a challenge in lieu of a tool. Frequent complaining about difficult user interfaces and a lack of interoperability with other systems were common prior-pandemic. Has their opinion shifted in seven months in? Medical Economics brought this interesting information to us in their article, "7 questions about the future of EHRs."
Most doctors don't want to go back to the days of paper records, nor is every part of the EHR beyond salvaging. There are many issues that need to be addressed before doctors will be satisfied with them, even seeing the value of interoperability in the midst of a crisis like the pandemic.
The pandemic has had an impact on EHRs in the way updates are postponed until they can no longer be. Financially, any investment into technology is on hold, but their value has been recognized.
Melody K. Smith
Sponsored by Access Integrity, delivering advanced technology solutions for full and complete compliant processing of medical transactions to the healthcare industry.
Photo, https://pixabay.com/illustrations/student-laptop-stressed-avatar-5625920/
Tags: COVID-19, EHR (Electronic Health Records), emerging technologies