Home » Data, Technology
The New Old Technology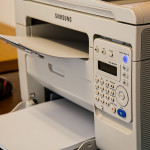 The fax machine doesn't feel like new technology by a long shot. Just the mention of this obsolete technology still leaves screeching sounds in my ears. So, who would have guessed that faxing is making a comeback? This interesting subject came to us from The Washington Post in their article, "Faxing is old tech. So why is it also growing in popularity?"
Faxing is still alive and well, somewhere. Millions of people, businesses and community groups send millions of faxed pages every day, from stand-alone fax machines, multi-function printers and computer-based fax services. It turns out that in many cases, faxing is more secure, easier to use and better suited to existing work habits than computer-based messaging.
Japan and Germany have embraced, or rather, never let go of the technology. Even major sectors of the U.S. economy, such as finance and healthcare – yes, you read that right – healthcare is a big user of the fax machine.
Think about it. Unless you accidentally fax it to the wrong number, there is less risk of a data breach than an email.
Melody K. Smith
Sponsored by Access Integrity, delivering advanced technology solutions for full and complete compliant processing of medical transactions to the healthcare industry.
Photo, https://pixabay.com/photos/printer-desk-office-fax-scanner-790396/
Tags: cyber attack, cyber security, data, data breach, fax, Security, technology