Home » Data, Medical Records
Working Together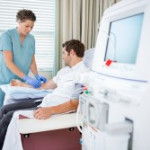 Massachusetts is integrating HIV surveillance and leveraging electronic health record (EHR) clinical data into their electronic disease case management system to enhance monitoring the HIV continuum of care. This interesting information came to us from the American Journal of Managed Care (AJMC) in their article, "Building Health IT Capacity to Improve HIV Infection Health Outcomes."
Massachusetts has a long-term goal of eliminating new HIV infections and in order to achieve this goal, they are working to engage all individuals living with HIV/AIDS in HIV medical care, keep them retained in care, and render their viral load non-detectable.
Currently the data elements necessary to monitor the HIV care continuum are documented in siloed health information systems that do not communicate with each other. To break down those walls and share the information, Massachusetts has engaged in a pilot project to enhance their health information technology (HIT) capacity to monitor the HIV care continuum and identify gaps in care.
Massachusetts Virtual Epidemiologic Network (MAVEN) will be enhanced to perform as a consolidated electronic system to document and triage clinic, laboratory, patient levels surveillance, field epidemiology and HIV care continuum data. The consolidation will enhance identification of patients infected with HIV and provide timely, actionable data for engagement and retention in HIV medical care. This is what coordinated care looks like.
Melody K. Smith
Sponsored by Access Integrity, delivering advanced technology solutions for full and complete compliant processing of medical transactions to the healthcare industry.
Photo, https://riponadvance.com/stories/young-introduces-bipartisan-bill-enable-coordinated-care-patients-kidney-disease/
Tags: data, EHR (Electronic Health Records), Interoperability