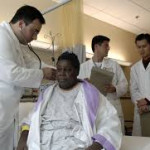 The American Health Information Management Association (AHIMA) met in San Diego earlier this month, and it's safe to say that the ICD-10 coding classification transition was on everyone's mind and tongue. Timing seems to be a little off, considering they were meeting over what would have been in the implementation period had the previous deadline stood. In 2015, they meet in the three days leading up to the new October 1, 2015 deadline. EHR Intelligence brought us this article titled, "AHIMA Leadership Addresses ICD-10 Delay and Implementation."
The general feeling on the show floor was anticipation, which was a bit surprising, considering how many delays there have been and the start-and-stop pattern that could easily wear folks down.
It is important to stay focused. Medical coding requires specialized expertise and systems tailored to the regulatory requirements in which healthcare providers, hospitals, and doctors deliver their services. Access Integrity, a leader in data integrity and content creation, offers tools and services for quality assurance and validation of medical coding. The cost savings are potentially huge.
Melody K. Smith
Sponsored by Access Integrity, delivering advanced technology solutions for full and complete compliant processing of medical transactions to the healthcare industry.
National Cancer Institute photo, http://commons.wikimedia.org/wiki/File:Doctor_examines_patient.jpg