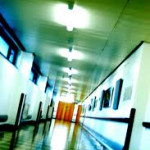 The days of deciphering doctors' notes are nearing an end in Bismarck. Joining the scores and scores of other hospitals across the country, the Sanford Health and CHI St. Alexius Health are welcoming their new electronic health records (EHRs) system. The Bismarck Tribune brought this news to our attention in their article, "Hospitals switch to electronic record system."
E-prescriptions are just one noticeable difference in patient services at Sanford, the result of a multimillion-dollar health records system that went live in April. CHI St. Alexius is integrating the same software with a launch set for September.
Hospitals around the country are implementing EHRs to improve efficiency and patient services, but also to avoid penalties. Federal law penalizes hospitals that don't make the switch to an approved EHR  system by withholding Medicare reimbursements. This is all part of Meaningful Use and the drive to bring collaboration and efficiency to healthcare records.
Melody K. Smith
Sponsored by Access Integrity, delivering advanced technology solutions for full and complete compliant processing of medical transactions to the healthcare industry.
Photo by Adrian Boliston, http://commons.wikimedia.org/wiki/File:Musgrove_Park_Hospital_corridor.jpg / CC BY 2.0