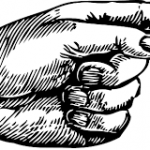 We reported a couple of weeks ago how the finger pointing started as soon as news got out that a patient in a Texas hospital was released with Ebola. Electronic health records (EHRs) took the blame as they can't defend themselves like nurses and doctors can. However, after further review, some folks are eating the proverbial crow. iHealth Beat brought us this news in their article, "Texas Hospital Updates EHR After Misdiagnosis of Ebola Patient."
In testimony before a House subcommittee last week, a Texas Health Resources official sought to clarify conflicting statements regarding the role of the hospital's EHR system in its handling of the first patient diagnosed with Ebola in the U.S. He revealed that the hospital did not obtain the patient's travel history during the admission process at the emergency department, which meant the pop-up alerts weren't activated so they could serve their intended purpose.
Access Integrity provides tools and services for improved work flow in all sizes of healthcare providers. Their Medical Claims Compliance system will search, analyze, and verify all electronic health records, notes, and submission forms simultaneously and automatically. This type of sophisticated indexing will help reduce the risk of incorrect medical coding and will reduce costs in the workflow, allowing physicians to focus on their practice.
Melody K. Smith
Sponsored by Access Integrity, delivering advanced technology solutions for full and complete compliant processing of medical transactions to the healthcare industry.
Image, http://pixabay.com/en/pointing-index-finger-hand-left-29723/ / CC0 1.0