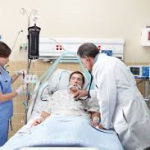 Providers continue to find more and more benefits of using electronic health records (EHRs). The latest comes from a study published by JSTOR that says that EHRs have the potential to reduce urinary tract infections (UTIs) in hospitalized patients. The majority of all UTIs associated with treatments are caused when a catheter has been used in the urinary tract. Catheter-associated UTIs affect morbidity, mortality, length of stay, and, of course, healthcare costs. This interesting information was brought to us by Health IT Outcomes in their article, "Simplified EHR Cuts Instances Of Infection."
So how does the EHR actually change the results? It is as simple as awareness. Many catheters are left in beyond the point of need simply because the physicians don't know that they are still there. A built-in reminder in the EHR alerts the physician at pre-set time intervals to affirm that the need still exists for the catheters. Read the study for details on the surprising results.
Melody K. Smith
Sponsored by Access Integrity, delivering advanced technology solutions for full and complete compliant processing of medical transactions to the healthcare industry.
Photo, http://en.wikipedia.org/wiki/Intensive_care_unit#mediaviewer/File:Clinicians_in_Intensive_Care_Unit.jpg / CC BY-SA 3.0