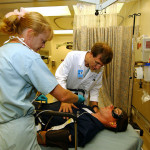 The role of patient-generated health data is set to change given the increased focus on patient engagement in the forthcoming Merit-based Incentive Payment Program. Patient-generated data is not a new concept to healthcare, though many are still unsure about its ultimate purpose.
The Office of the National Coordinator for Health Information Technology has been exploring the usefulness of patient-generated health over the past few years.
The term alone brings to mind Fitbits, wearables, and other smart devices. However these devices are not approved by the Food & Drug Administration for clinical use. Patient-generated data could include something as simple as a patient being able to correct erroneous information contained in their electronic health record (EHR). But we shouldn't stop there.
Melody K. Smith
Sponsored by Access Integrity, delivering advanced technology solutions for full and complete compliant processing of medical transactions to the healthcare industry.
Photo, https://commons.wikimedia.org/wiki/File:US_Navy_050526-F-5586B-077_Shannon_Bathurst,_left,_Emergency_Medical_Technician_and_John_Hybart,_Medical_Director_Emergency_Department_performs_a_medical_evaluation_to_a_simulated_patient_during_exercise_Lifesaver_2005.jpg