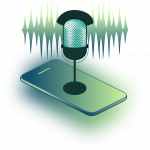 Using voice recognition and virtual assistant technology to simplify electronic health record (EHR) documentation can improve the patient experience. EHR Intelligence brought this interesting information to our attention in their article, "athenahealth Taps Voice Recognition Tech for EHR Documentation."
athenaOne Dictation users will now have access to Nuance's conversational AI platform, Dragon Medical, which helps reduce documentation time and ideally clinician burden. The collaboration is prompted by advances in speech technology that have proven to increase productivity, allowing physicians more time to focus on patient care.
This integration will give physicians the ability to document and navigate patient encounters by using voice commands. Then patients who want to be fully engaged in their health and care can do so within context.
There is hope that this will also reduce the incidents of physician burnout. A recent survey report highlighted the fact that 40 percent of clinicians experience burnout. The integration of the conversational artifical intelligence (AI) platform will free up clinician's time from laborious documentation processes that take away from the patient-provider experience.
Melody K. Smith
Sponsored by Access Integrity, delivering advanced technology solutions for full and complete compliant processing of medical transactions to the healthcare industry.
Photo, https://pixabay.com/vectors/voice-recognition-recognize-google-4414962/