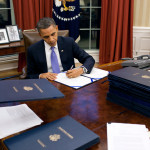 Recently, a bipartisan group of lawmakers sent a letter to the Centers for Medicare and Medicaid Services (CMS) Administrator Marilyn Tavenner with a request for more information on the agency's progress and future plans for ICD-10 implementation. This interesting information came from iHealth Beat in their article, "Lawmakers Seek More Information on ICD-10 Implementation."
Healthcare organizations are working towards transition from ICD-9 to ICD-10 code sets to accommodate codes for new diseases and procedures. In April, legislation was signed by President Obama that pushed back the ICD-10 compliance date until October 2015 or later.  Concerned about process and timelines, the letter asked CMS to take the necessary steps to ensure that the agency, providers, and contractors are all fully prepared to maintain the integrity of federal programs.
With this impending reality, making sure that claims are processed in a timely and compliant fashion becomes more important than ever. With the ICD Tagger automated indexing system, which flags potential coding errors in medical transactions, claims submission becomes streamlined. This all-inclusive application provides consistent, uniform, and auditable reporting plus error flagging.
Melody K. Smith
Sponsored by Access Integrity, delivering advanced technology solutions for full and complete compliant processing of medical transactions to the healthcare industry.
Official White House photo by Pete Souza, http://en.wikipedia.org/wiki/President_of_the_United_States#mediaviewer/File:BarackObamaSigningLegislation.jpg