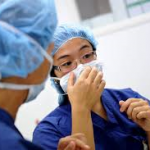 Electronic health record (EHR) systems are fast becoming an integral part of a healthcare practice's business. However, while many medical practices adopted EHR in search of government incentives, they adopted practice management software for their own purposes. This is the software they use to run their business — scheduling appointments, registering patients, submitting claims, and getting paid. Do these systems work together? Information Week brought this thought to us in their article, "10 Medical Practice Management Systems For 2014."
Ideally, EHR and practice management systems work together so that patient registrations become patient health records, and the diagnosis recorded into the EHR turns into a properly coded insurance claim. Automated indexing like that available from Access Integrity can help reduce the risk of incorrect medical coding and can reduce labor and work flow costs.
Melody K. Smith
Sponsored by Access Integrity, delivering advanced technology solutions for full and complete compliant processing of medical transactions to the healthcare industry.
U.S. Navy photo by Mass Communication Specialist 2nd Class Gary Granger Jr., http://commons.wikimedia.org/wiki/File:US_Navy_110727-N-YR391-005_Lt._Cmdr._Jennifer_Freeman,_an_Obstetrics-Gynecology_physician_at_Naval_Hospital_Jacksonville.jpg